robust crew records
management
From employment application to paystub, CrewTrac™ ensures
aviation credentials, currency, and payroll are accurately maintained.

crew records tracking
designed for business aviation
Record keeping is not the most glamorous part of aviation, but it is certainly vital.
At JetPro, we have created automated systems to ensure crew members are maintaining their currency in their respective aircraft.
Keep track with CrewTrac™.
What Is CrewTrac™?
Keeping up with all of the required certifications, training and other required credentials can become complex to maintain for a flight department. It's easy for things to fall through the cracks, especially as time moves on and things begin to expire. Our internal tracking system, CrewTrac™, enables us to ensure crew members maintain their currency in their respective aircraft in a systematic yet simple way. JetPro is able to actively manage hundreds of pilots and thousands of records. This is done with our system and database of pilots and crew developed and maintained exclusively by JetPro. In a nutshell, it allows us to process higher volumes of pilot records with accuracy and efficiency…all with less overhead.
How Does it Work?
Using enterprise-level software customized for business aviation, CrewTrac™ helps us to efficiently organize our crew. The system manages everything…including recruiting, screening, onboarding, ongoing record keeping, and payroll. Exclusively designed for business aviation, CrewTrac™ manages the credentials and certifications to satisfy FAA requirements. CrewTrac™ is used to establish credential sets, maintain them as time moves on and alerts us as old credentials expire.
sequence of events
crew selection, approval, & processing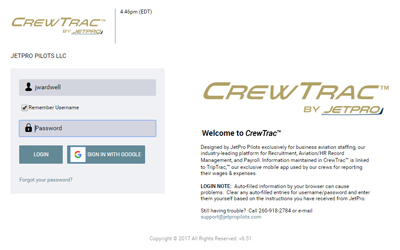 Step 2: Application Review and Approval
(One-Time, Completed by JetPro Admin)
Once the application is submitted, our admin team receives an alert. After reviewing the credentials (and sometimes after a phone interview, if required), if the crew member is approved, JetPro management will initiate the hiring sequence. This will trigger an email and link back to the crew member with an invitation to complete the full onboarding (hiring paperwork) process.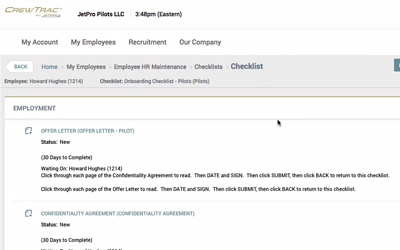 Step 4: Onboarding Verification
& Final Processing
(One-Time, Completed by JetPro Admin)
Once an applicant has completed their onboarding paperwork, a member from our admin team processes and approves the paperwork following a detailed checklist to ensure that the forms were filled out and signed properly, and that the documents that were provided by the crew member are complete and accurate. The internal employee file for the crew member is assembled, and the criminal and FAA background checks are also completed. This process, since it has been so streamlined, only takes about 30-45 minutes to process (start to finish).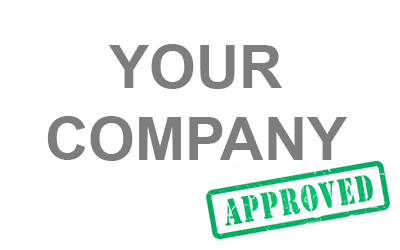 Step 1: Application Portal
(One-Time, Completed by Crew)
This portal, linked to our public website, can be used by any pilot, flight attendant or technician that is interested in applying with JetPro. Applicants use this secure portal to create a secure temporary account in which they can submit their basic information. This includes demographic information as well as aviation credentials, including a variety of hour totals, type ratings, and recent aircraft training.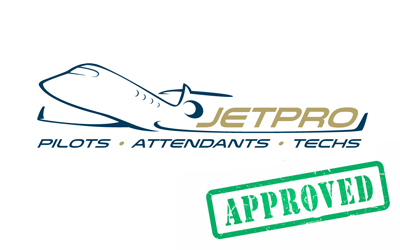 Step 3: Onboarding Portal
(One-Time, Completed by Crew)
Once an applicant has been approved to be hired by JetPro, they are invited to log back into CrewTrac™ to complete the full onboarding paperwork. With self-service and full instructional videos, this process includes signing a JetPro offer letter, full confidentiality agreement, I9, and completing banking and tax withholding information. Crew members are also asked to upload electronic copies of their aviation credentials including pilot certificate, medical certificate, training records, etc.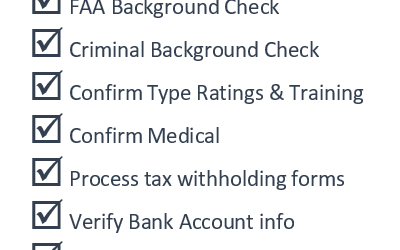 Step 5: Crew Approval by Your Team
(One-Time)
Once the paperwork is 100% in place, the crew member(s) may be presented by JetPro to your team for approval (this step may be waived if the crew member is pre-approved and presented to JetPro by you). Depending on the volume, crew information presented for approval may be presented to your team in the form of individual dossiers, custom CrewTrac™ reports.
CrewTrac™ is Customizable
The rules established by the FAA, IRS, and other government agencies cover a large portion of the rules that we need to follow. Out of the box, CrewTrac™ is certainly designed with these rules in mind. However, we also recognize that each flight department or company may have its own internal set of requirements that may impact its contract staff. These can be driven by insurance requirements, ISBAO, Human Resources, or other internal policies developed by a flight department. We work with each client to incorporate any specialized in-house training that needs to be monitored. If such training exists, we can build these items into CrewTrac™ as needed.
CrewTrac™ is Designed for Business Aviation Staffing
There are many varieties of HR and payroll systems on the market available for purchase, but none of them are tailored to business aviation staffing like CrewTrac™. The system was built with one objective in mind. The database is pre-populated with FAA type ratings, detailed aircraft makes & models, and other aviation-specific items so that crew members and the JetPro admin team can simply pick items from a list. This reduces errors, ensuring the data is stored properly, allowing accurate processing and reporting
CrewTrac™ touches each of the three main parties involved in the process: the JetPro admin team, the crew, and the client. Pertinent information from within the system is presented to different parties at different times, as appropriate.
CrewTrac™ is not just a software product. The HR and payroll tracking software is certainly at the core of it, but the idea encompasses a broader vision. CrewTrac™ incorporates the entire process, which includes the software itself, but even how we use it internally. It incorporates our internal checklists and quality control procedures to ensure that everything is processed correctly, every time.
CrewTrac™ is Secure
Our IT team has worked hard to ensure that our system is safe & robust. Our hosting provider offers a redundant infrastructure to ensure that the system keeps running around the clock. To maintain security, we use a multi-layered approach. We actively manage security profiles to control who has access to what, we require strong passwords with rotation requirements, and we use two-factor authentication in the system.
let's discuss your unique crewing needs